New uniforms and Thank You gifts for staff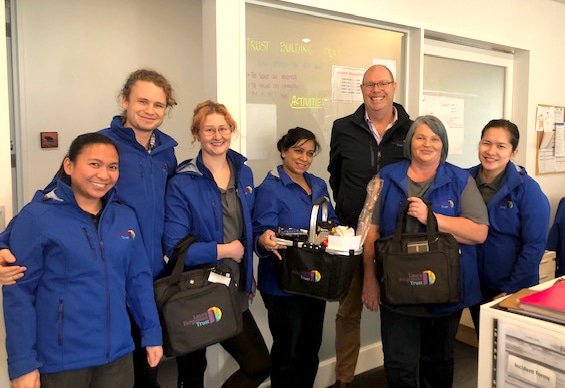 Laura Fergusson Wellington has recently gone through a rebranding exercise.  Our new logo portrays an open door to suggest support, progress and opportunities.  The colours highlight the many possibilities and individual outcomes that our clients experience.  Our staff are central to our community and we felt it was high time they reflected our brand on a daily basis.  This week we have rolled out the new uniform addition which we believe contributes to an increased sense of belonging and professionalism.
Our Board of Trustees wanted to demonstrate their appreciation of all the hard work and dedication the team put in during the lockdown period.  The staff were given a variety of options to choose from so that they were also part of this process and the bounty has arrived!  The Board felt it was important that these gifts were able to be shared with their wider families as they also committed to keeping our residents safe by managing their home environments.  Gifts included picnic, tea and cheese hampers, meals out and hampers from the wonderful Shine Café in Lower Hutt.