Kia ora my name is Nicola and I have lived at Laura Fergusson Trust for 23 years. I have cerebral palsy. This does not define me.
There is no denying that my cerebral palsy creates difficulties, but to me, this means you just have to take charge and find a way around the barriers and not let it stop you. The most important thing to know about me is who I am, rather than the labels that I hold.
I believe that the Laura Fergusson Trust opens your mind up to new ways of living. The focus is on achieving your potential whilst continuing to reach for more. I am supported by people who encourage me to constantly aim higher and push myself further. This propels me to strive for independence each day.
I have mastered the art of laundry and have now set my target on cooking. I attend a Laura Fergusson Trust cooking group where I am learning to cook independently with staff supervision. This ensures that I feel safe whilst pushing myself outside of my comfort zone. Cooking is a new task for me and it helps me take control over the foods that I would like to both cook and eat. The cooking group involves searching for recipes, preparing shopping lists, shopping, cooking and of course eating our creations. Striving for independence isn't always the easiest option, but it is the most rewarding.
In recent years, I have found freedom in the water. In the warmer months I attend Sailability. Getting out on the water in Seaview, Petone is a fantastic mixture of excitement and relaxation all rolled into one and it is an experience like no other. I am now also involved in the Laura Fergusson Trust swimming programme where my confidence is growing each time. I set myself goals in the water and allow myself the time and opportunity to relax and feel the magic of the water working wonders on my body.
I am a National Boccia champion. Without the support and constant encouragement from this organisation, this could not happen. I play Boccia twice a week, both at Laura Fergusson Trust and in the wider community. Boccia brings another side out of me, my competitive side – but I love it!
This is my life today, but who knows what I will achieve in the future only time will tell. Whatever it, I know I will be supported by the Laura Fergusson Trust community. Watch this space.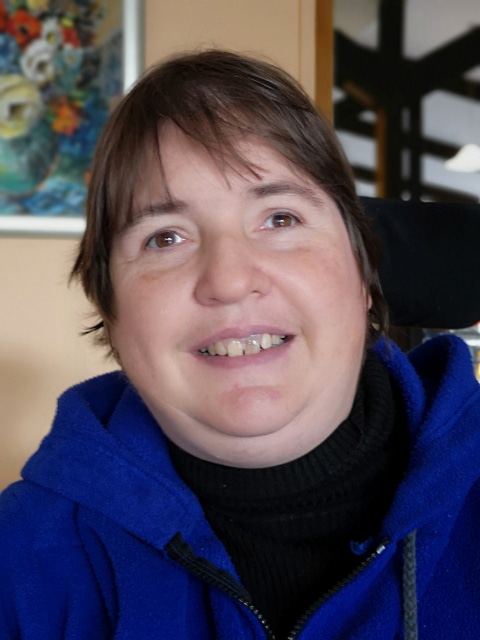 Devon getting it together again
Kia ora, my name is Devon, and I am 21 years old. I was proclaimed dead twice but fought through it and am here to tell my story.
In August of 2018 I was involved in a serious car accident and sustained a severe traumatic brain injury alongside many other physical injuries. However, I don't let this stop me, I use it as motivation to keep turning pages. My philosophy is that you can't change the past so don't dwell on it, but you can move forward and make a whole new future. The plot of my story may have changed but I am now in control of what the next chapter will look like.
My recovery and rehabilitation cannot be separated from my family. There is no way I would be where I am today without them. In the early stages they pushed me to do my best when I wasn't able to take charge of my motivation. I began working with the Laura Fergusson Trust in December 2019 and initially started working with my coach, with the Living My Life programme. In the beginning, I was scared and sceptical as I was used to the safety of being around my family for all my significant recovery milestones, and was unable to imagine taking the next steps without them at my side. You might think that reaching new milestones is all fun and games, but I'm here to tell you it doesn't come that easily. There is an element of true fear involved because in order to make gains you need to accept that at first you may not succeed, and are constantly weighing up the risks as you try new things. The steps we made together may seem small to some, but they were huge for my confidence and independence. I felt safe to do things that I wasn't yet ready to do by myself such as ordering my own food and going to new places. This involved gaining the confidence to talk to new people and put myself out there.
In July 2020 I no longer required the hands on support, I needed the opportunity to build my social confidence in a way that felt natural. This may not seem like much to some but it was a big deal for me.
I also started Speech Language Therapy at the Laura Fergusson Trust. I think there is no denying that I had some serious doubt initially. I learnt how to write again despite being told previously that this was not possible. Being told that I couldn't by others fueled my fire and pushed me harder to prove those people who doubted me wrong. I can do it, I have done it and I have achieved my goal despite all doubt.
It's not about what you can't do, it's about what you can do and what you will do with the right motivation. For me this is about making wild goals because I know that if the goal is there, I will smash it, and whatever the goal is, Laura Fergusson Trust will be standing along beside me!